The transition to university can be a stressful time, but no need to drop your current physical activity routine.
The Canadian government recommends 150 minutes of moderate to vigorous aerobic activity per week. Being active for 150 minutes each week improves your overall health in many ways, reduces your risk of injury and illness and also improves concentration and memory. These 150 minutes do not have to be done all at once- as long as you are being active in bouts of 10 minutes or more, it counts! The most important thing is that you are being active whenever it fits into your schedule.
All Queen's students have a membership to the Athletic & Recreation Center, the ARC, as part of your student fees. The ARC is located right in the center of campus and is very accessible.
Some of the basic services at the ARC include:
–            State of the art workout facility
–            Free fitness classes for members
–            Casual recreations opportunities
–            Just for women activity opportunities and workout spaces
–            Online racquet court booking
–            Accessible workout areas
–            Locker, laundry and towel service
Want to try a new fitness class? Classes are FREE from September 10-16th, 2018 as part of the Fitness Free For all initiative by Queen's Athletics & Recreation and Get Your 150. Classes such as Afro-Soca Fitness, Body Fit, Glute Camp, INSANITY Live, Kickboxing, and Group Cycle classes are offered. Grab a friend and try something new!
Come see all the great physical activity opportunities available to you at the ARC!
We hope to see you soon!
Sincerely,
Get Your 150
FB: Get Your 150
IG: get_your_150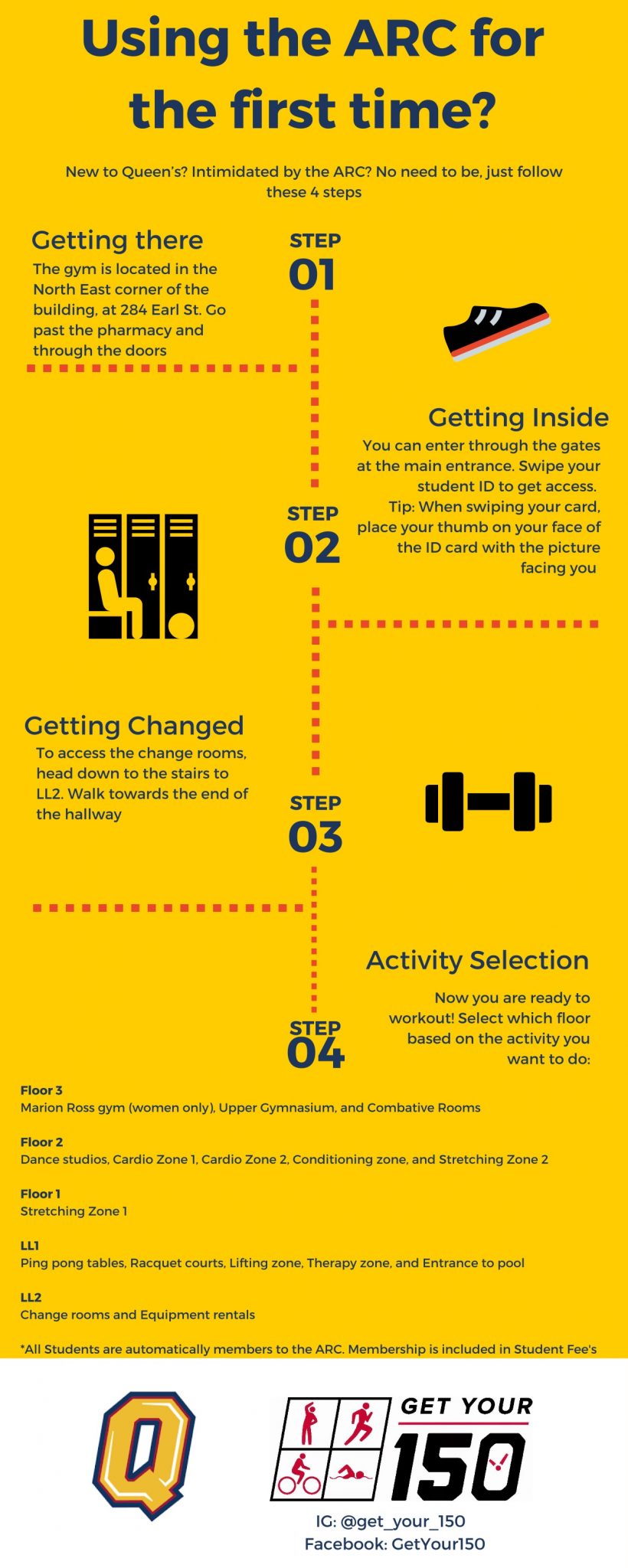 The infographic and article were created by Olivia Mew from the Queen's University Get Your 150 program.