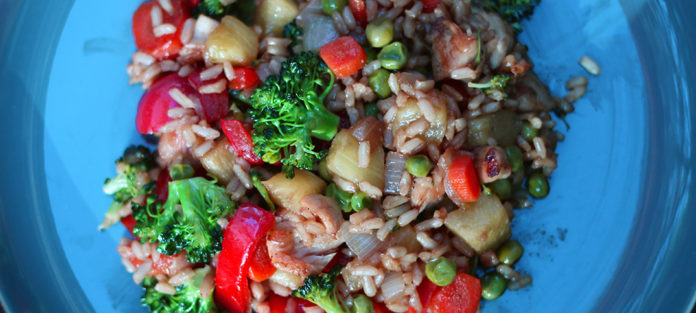 Rate this article and enter to win
Every so often, a dish comes along that fulfills all your nutritional requirements in one go. This is that moment. Say hello to our improved version of the take-out staple—pineapple fried rice.
Pineapple fried rice offers everything you need for a balanced meal: fruit, vegetables, wholegrains, and healthy protein. It incorporates several foods from plants, along with a moderate serving of chicken—leaner and healthier than red meat. (Alternatively, use shrimp, tofu, or tempeh.) And it's easy to make.
How to eat simply in a complicated food world
We live in a world full of competing nutritional claims, evolving scientific findings, and various pyramids, pie charts, and plates. How to filter all that info and translate it into simple, healthy meals isn't always obvious. At SH101, these two guidelines helped us do it—and showed us, in the end, the glory of pineapple fried rice.
1. Avoid getting hung up on popular food dogmas
"Instead of following diet trends, a good rule of thumb is to choose foods that are close to their original form," says Théa Demmers, Nutritionist, Dietitian, and Nutrition Suite Supervisor at Concordia University in Quebec. "For example, eat a fruit instead of [drinking] juice or a smoothie, or have a slice of lean roast beef instead of prepared luncheon meats. It's also a good idea to load up half your plate with veggies and choose wholegrains, since most Canadians don't eat enough fresh vegetables, fruits, and wholegrains throughout their day."
2. Find a guide from a neutral source and get to know it
For example, to help us untangle the confusion around nutritional advice, Harvard School of Public Health created the Healthy Eating Plate—a nutritional guide based fully in scientific evidence, free of food industry influence. As it turns out, their plate is similar to the Eat Well Plate created by the Government of Canada. Our recipe for pineapple fried rice fulfills the criteria of the Healthy Eating Plate.
Take a look at the Harvard Healthy Eating Plate
How pineapple fried rice captures all the elements of the Healthy Eating Plate
Healthy oils
Canola, olive, coconut, or sunflower oil for cooking the veggies
Vegetables
Carrots, peas, bell pepper, onion, broccoli, and scallions
Fruits
Pineapple
Whole grains
Brown rice
Healthy protein
Chicken, tofu, or tempeh
Experts and students: "How I eat well"
Switch up your cooking method
"Choosing a different cooking method can give you better nutrition, for example choosing baked or grilled instead of fried," says Demmers.
Make small swaps
"Making small adjustments, like decreasing added sugar in a recipe, or in your coffee or tea, can have a big impact over the course of several days. With time our taste buds do adjust! You can also add other spices like cinnamon to enhance sweet tastes, or use marinades with lemon, lime, and herbs for savoury dishes to reduce the reliance on added salt," says Demmers.
Get colourful
"When I was in Katimavik [a Canadian volunteer program], we had to cook using the 'five-colour' rule. There had to be five different-coloured foods for each meal, and two foods that were the same colour wouldn't count (e.g., cauliflower and pasta are both white). We'd use things like red onions (purple) instead of white; yellow, orange, and red peppers instead of green; and sweet potatoes instead of regular," says Ashe M., second-year undergraduate at Lakehead University in Ontario.
Step up your pasta
"I discovered black bean and edamame noodles at the organic grocery store, and I love using them to make a healthier version of macaroni and cheese," says Sarah M., a second-year undergraduate at the University of Guelph in Ontario. "I've also used a spiralizer to make my own carrot and zucchini noodles, which I like using in Pad Thai."
Snack healthy
"Make trail mix with nuts, seeds, dried fruit, and wholegrain breakfast cereals. This is a great snack that you can carry with you that will help decrease the urge to stop and buy candy or chips," says Dr. Pamela Koch, Executive Director, Associate Research Professor, and Registered Dietitian at the Laurie M. Tisch Center for Food, Education & Policy at Columbia University, New York.
Eat before eating
"I may have an appetizer and drink water so I don't overeat when I get my meal," says Martin M., a second-year undergraduate at San Bernardino Valley College in California.
The meal that has it all: What works about pineapple fried rice?
"Pineapple fried rice is a great recipe because it incorporates different plant-based foods to help you reach the half-your-plate goal for veggies and fruits. It also has a portion of lean animal protein from the chicken and a whole grain," says Demmers. "The combination also looks colourful and appetizing, which is important because research shows that we eat with our eyes!"
Chicken: Lean protein containing the building blocks needed to form lean muscle mass and help us feel full
Pineapple: High in Vitamin C (for tissue growth and repair)
Carrots: Rich in beta-carotene, converted into Vitamin A in the body (for immune function, reproduction, vision, and cell activity)
Peas: Quality carbs (for energy and for fibre, which lowers disease risk) and additional protein (to repair and build cells)
Red bell pepper: High in Vitamin C and Vitamin A
Onion: Rich in sulfuric compounds and antioxidants (various health benefits)
Scallions: Good source of Vitamin C and potassium (various health benefits)
Broccoli: Contains Vitamins A and C
Precooked brown rice: Wholegrain, with more nutrients and fibre than white rice has
Print or save your step-by-step guide to pineapple fried rice
Get help or find out more
Article sources
Christine Rosenbloom, PhD, RDN, nutrition professor emerita, Georgia State University.
Pamela Koch, EdD, RD, executive director, associate research professor, Laurie M. Tisch Center for Food, Education & Policy, Columbia University, New York.
Harvard T.H. Chan School of Public Health. (2011). Healthy Eating Plate & Healthy Eating Pyramid. Retrieved from https://www.hsph.harvard.edu/nutritionsource/healthy-eating-plate/
Harvard T.H. Chan School of Public Health. (2011). Healthy Eating Plate vs. USDA's MyPlate. Retrieved from https://www.hsph.harvard.edu/nutritionsource/healthy-eating-plate-vs-usda-myplate/
Senyei, K. (2013, July 31). Pineapple chicken fried rice. [Blog]. Retrieved from https://www.justataste.com/easy-pineapple-chicken-fried-rice-recipe/